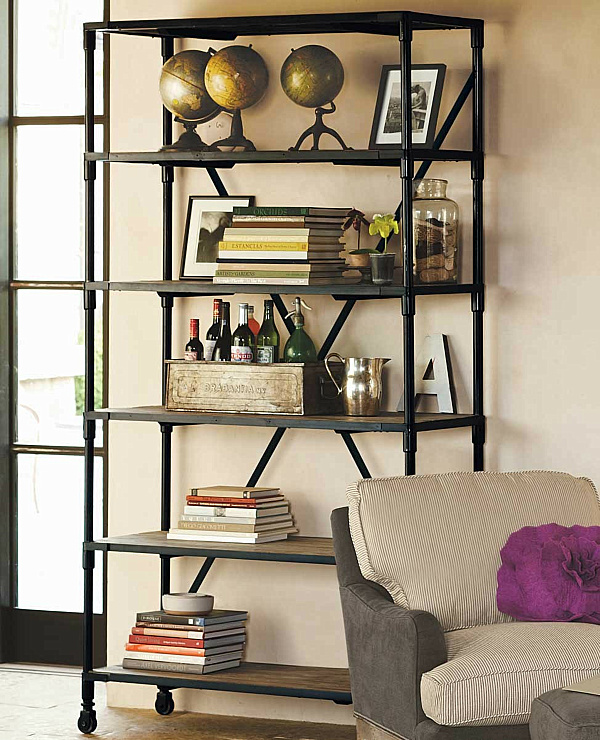 There is nothing like a well-styled bookcase filled with books, accessories, and collectibles to add warmth and uniqueness to a room. Books are entertaining and enlightening and can be a beautiful decorative element in a room if you learn how to display them in an effective way.
Bookcases can also represent and showcase you and your family's passions, interests, and hobbies. They can make a bare wall go from blah-to-beautiful and make an overall space feel larger and taller.
You can also have a lot of fun filling your bookshelves. Start with a blank slate and build from the ground up by adding different layers to create an engaging and interesting composition. Look for spaces that aren't cluttered and can use some visual interest.
The key to the overall look is how to pull the accessories together to create an aesthetically pleasing result. Keep it simple by making sure that large items are balanced by other large items. Try to add interest and vary the design by keeping some books leaning away from the centre of each shelf compartment, which leaves room for decorative items in the middle. The key to the overall look is how to pull the accessories together to create an aesthetically pleasing result, yet not add too much so it looks cluttered and not add too little so it appears bare.
You can also arrange your books by colours in a rainbow hue that spice up the room. Colour coding your books adds order to a shelf that is jam-packed with hardbacks and paperbacks.

Use bookcases as decorating tools by focusing on the theme of your books. If you have a large number of beautifully bound older books, place these books together to create dramatic interest. Shelving books according to their height can add a pleasing order on the bookshelves and compliment your décor. Create interest with the bookcases themselves by using a floor-to-ceiling bookcase or shelf to add drama to any room, regardless of the books it houses.

Hardcover books look much better and more decorative without the dust jacket. The bindings are usually printed with a nice script, and the colours give the book more of a classic look.

Books are great for elevating a family photo or a short collection item. Varying heights create more visual interest, and the combination of books, pictures, and candles or a lamp is always a great vignette.
No matter your budget, a well-styled bookcase can be achieved using random accessories from around your home, discount store finds, collectibles, and do-it-yourself creations. Remember that you'll want to read the books from time to time, so make sure they are easily accessible.