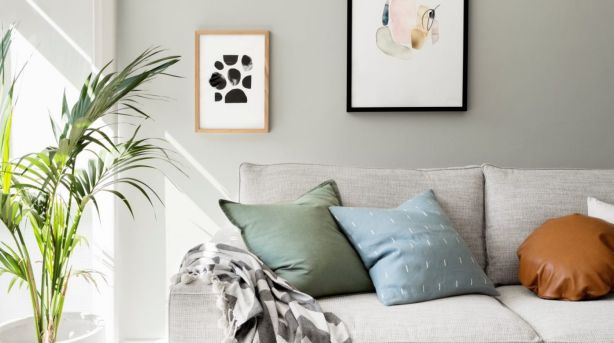 Spring season invites changes to your home with fresh decorating ideas. Now that we have a sneak peek at spring, it is the perfect time to kick off the season by adding a little freshness to your home. Here are a few tips that will have you and your home feeling renewed in no time.
Pare down and organize
No need for excess, spring is the perfect time to thin things out. Start with closets by pulling out clothes and shoes you have not worn in a while, and donate them so that someone else may get some joy out of the items. The same goes for books and magazines and anything else that's been accumulated. Remember to tackle the pantry, fridge and medicine cabinet too, and discard or recycle what is no longer needed.
Once everything is pared down, organize what is left. Baskets, decorative boxes, and bowls are a great way to keep a sense of order to everyday things. After a good clean up, your space will get an instant lift and you will feel refreshed and lighter too.
Rotate art and rearrange furniture
Separate art into summer and winter piles. Hang the lighter, pastel colours for spring and summer, and put the deep, oil paintings in storage. Every six months, rotate your pieces. This way, you enjoy your art with new vigor, and it's something you can do in minutes.
Simply switching the placement of a sofa set, or repositioning the TV can make you feel like you have a whole new room. If you don't have much room for movement, change and update the smaller things, like pillows, throws, and lamps. Remember, even a small change will do you good and help brighten up your home.
Give your home new colours
Nothing brings the feel of spring in like the colours and textures of the season. Keep a spring garden in mind and pick the colours and flowers you like the most from the spring garden colour palette. Choose the ones that look best with your overall colour schemes that are already in place.
Nothing says spring more than fresh flowers. Make sure to be consistent with creating arrangements. Choose a colour scheme, like all white, instead of mixing bouquets. Use the same type of flower in one glass container with a beautiful white satin or grosgrain ribbon wrapped around it.
The infusion of brighter colours and fresh flowers and plants reinforce your seasonal changes and give your home a new relaxing look and feel.
Brighten up the windows
New updated window treatments can make one of the most profound changes to the look and feel of a room. Spring calls for delicate colours and soft fabrics. Choose something light and airy, like a soft drapery or sheer window shading.
Let the sunshine in, and if you are worried about privacy, can place room-darkening blinds that you can adjust for a look and feel that is tailored to your unique needs. In addition, sunscreen window shades are especially popular options that will prepare your home for the glare of the sun and the heat of the upcoming summer.
Soothe the senses
Spring is not only a colourful season but a fragrant one too. Bring the aroma indoors. Scents have a profound effect on mood. Infusing scent into your décor with diffusers, candles, fresh cut plants/flowers, or incense can change the overall feeling of a space. Purchase an inexpensive bouquet of flowers. Split flowers up by colour, and place each bunch in small vases around your home.
Update accessories
Just as you'd add a scarf or necklace to enhance an outfit, do the same with your home. Dress your home like you would yourself. Look for great accent pillows in bright colours. Put away the winter throws and drape light, bright throws on your sofa. Pick out spring-hued vases or candles to boost a cocktail or dining room table.
Beautify your bedroom
Bright new bedding can do wonders for your personal space. Tuck away the heavy, winter flannel comforter and pull out crisp linens with a decorative bedspread. Bring in the spring with floral-designed spreads or colourful solids. Don't forget accent pillows for added style and comfort.